Upholstery Service Reviews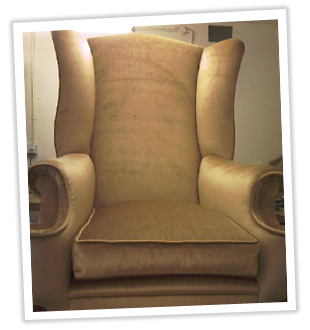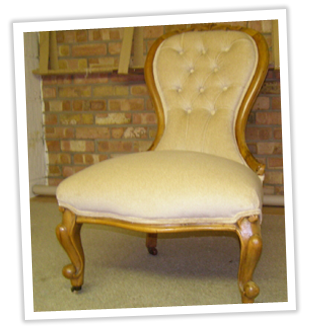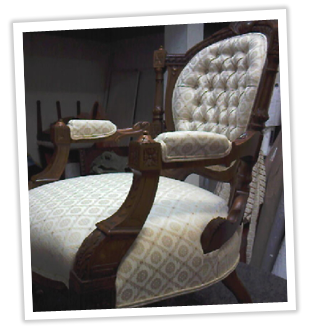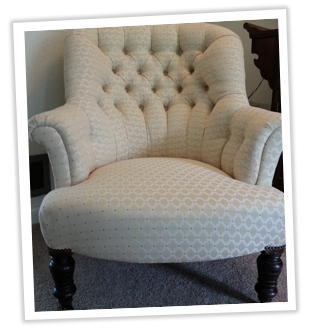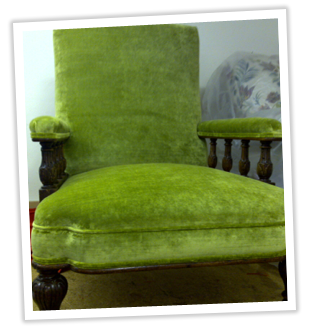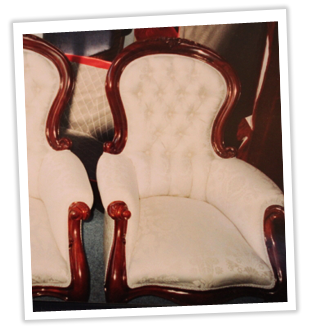 Here is a selection of some of the great feedback we regularly receive at Claridges Upholstery.
---
Lawrence recently repadded and recovered our 8 dining room chairs. He has done a superb job and we are thrilled with the results. He took great care to ensure the pattern was placed perfectly. The chairs are now so much more comfortable and look absolutely great. I can highly recommend his service.
Alan and Kerry Ritchie, Walton on Thames
Good job and service.........reasonable price
Lewis, W-o-T
I used Claridges upholstery to cover an arm chair to match my new sofa. They did a superb job and my chair was back with me within a week. Great service and very high standard of work. I can highly recommend them and will definitely use them again.
H Howell, Walton on Thames
We had two leather settees recovered in fabric of our choice. We were very impressed with the service and work which was carried out and would have no hesitation in recommending Claridges to friends and family.
Doris Morgan, West Clandon
Claridges Upholstery have done a fantastic job reupholstering our 2 sofas & footstool. Lawrence provided great service, superb craftsmanship & we are delighted with the results. They look like new. We would highly recommend Claridges.
Andy & Juliet Ryley, Woking
Had 2 chairs and a footstool reupholstered. They were returned within a week and exceeded all expections; they looked great. Would highly recommend Claridges.
S F, Walton on Thames
Fast and reliable service ,quality assured would recommend .
Mr Beaven, Guildford
My chair was in a very sorry state, Lawrence has done a fantastic job - would highly recommend.Thank you.
Emma Brooker, Thames Ditton
A excellent service. The reupholstered sofa and arm chair have been much admired.collection and return very well organised.
Anne Vernon, Walton on thames
Excellent friendly service.Very pleased indeed with the standard of work. Thoroughly recommend Lawrence. Thanks again.
Mr. & Mrs. Boulton, Guildford
I recently used Claridges to re-upholster my dining room chairs. Lawrence was great, he came to the house with swatches so we could match to an existing chair and footstool. He collected and returned the chairs beautifully finished within a week. Amazing service, great workmanship and he was cheaper than the other quotes I had! I'd definitely recommend Claridges
Nicola Banks, Woking
A big thank you to Lawerence for fixing our favourite sofa. The arms had underneath had gone and the back cushion were all out of shape. It's come back looking fantastic with photos evidence of the repair work and strenthening he has carried out. Awesome work, I have no hesitation in recommending this company for a fair and honest job. Well done and thank you. The Swifts.
Lee Swift, West Molesey
Another first fate job from Lawrence, thoroughly recommend, Ithink you will find it difficult to better his work!
Mr. &Mrs. D Boulton, Guildford
My Edwardian armchair has a new lease of life! brilliantly upholstered, Excellent service, extremely reliable and most reasonably priced, definitely recommend !
J Whiteford, Esher
Thank you for re upholstering our 4 dining chairs. What a beautiful job in removing and replacing the seat foam, all the brass studs and covering in tobacco suede effect covering. A stunning job! They look brand new! Thank you!
Ella, Cobham
I had two old dining chairs repaired. I found the company fast, efficient and pleasant. The repair is well done and I would recommend. Many thanks.
Pauline Hadfield
Fantastic service from Claridges Upholstery - excellent range of fabrics and a very quick turnaround. Our chair looks wonderful!
A Worrall-Thompson , Walton-on-Thames
Lawrence did a fine job on a set of 6 dining chairs in a few days at reasonable cost. The chair cushion was integrated into the chair and was not a trivial job, but along with the excellent fabric recommendation, they now take pride of place around the dining table.
Mark H, Guildford
Great service and help. Quick turnaround without loss of quality. Recommended without question and good to be able to support local talent and industry
Keith Noble, East Horsley
Laurence recently covered an old occasional chair for us. He has done a fantastic job bringing an old shabby chair back to life . I recommend Clardiges Upholstery.
Clare, Sunbury on Thames
I gave Lawrence Claridge my antique chairs for reupholstering. I chose a rather daring fabric and hoped for the best. The finished product took my breath away! Turnaround time was amazingly quick considering the complexity of the work involved. Exemplary service!
Zarin Mohamed , London
I have just received our newly recovered chesterfield sofa. i am delighted with the result. I had upholstered it about 40 years ago and the cover had warn out. I had bought the same material to recover it in and the finish is amazing. Lawrence managed to complete the job even though there were some flaws in the new material, a testimony to how good a craftsman he is. He replaced the webbing and added some extra wadding and the sofa looks fantastic. Thank you so much
Mrs A Hurford, Lightwater Surrey
Lawrence is in the process of doing several jobs for us. On the basis of the completed first chair I can say that we are very happy with the service and his cheerful attitude and would recommend him to others. His prices seem to compare favourably with others we have contacted.
Stuart Barnes, Guildford
Cannot speak more highly of the work done to make my buttoned back chair come back to life after many years of thinking it would be better on a rubbish dump. Speedy service at a competitive price has resulted in a very satisfied satisfied customer .
Roger, Guildford
Private
Lawrence has done a fantastic job completely revitalising a very tired chair. Good value, superb workmanship and a rapid turn round.
Andrew Clifford, Bisley
We just got our two settees ( one two and one three seaters ) recovered by Lawrence and can say he offers a very good , precise and efficient service getting these recovered amazingly in two weeks! Fab work with a fab result - we will and infact are using his services again. If you want good work done at a fair price this the man to use !
Alex, Camberley
Claridges did a fantastic job of renovating my mother's sofa bed and two reclining chairs. They look so different and am so pleased with the end result. Would not hesitate to recommend
Kim Wright, Sunbury-on-Thames
Delighted with my re-covered antique chair. Very prompt work and to a high standard.
Fiona, Woking
Delighted with my re-covered antique chair. Very prompt work and to a high standard.
Fiona, Woking
This service is prompt and completely reliable. The work is done to an impeccable standard and goes the extra mile. I had a wreck of an antique seat which needed complete replacement of the springs and stuffing, as well as a complicated recovering. It is now not only beautiful but comfortable to sit on. I am delighted with the result.
Lesley Wade, Shere
Lawrence has recently recovered two chair cushions and we are so pleased with the result. His workmanship is to such a high standard and the time frame was very quick. We would definitely use him again and would highly recommend his services.
Katie, East Horsley
second settee done by Lawrence. Very pleased and excellent workmanship. Can thoroughly recommend.
bettina brueggemann, Guildford